Haryana is a state in North India popularly referred as 'The Abode of God'. It is believed that it is the place where Veda Vyasa, the saint, wrote the famous epic Mahabharata. Thes state is also known as the Green Land of India. It is a major producer and supplier of agricultural products in India. The main tourist attrctions of the state are Chandigarh, Gurgaon, Kurukshetra, Panipat, Ambala, Hisar, Faridabad, Karnal, Pinjore, Panchkula, Morni Hills, & Sonipat. Morni Hills is the best tourist destination to visit in the State.
Morni Hills: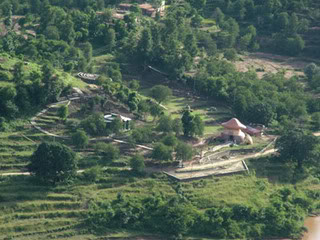 Morni Hills is the only hill station of the state. This scenic hill station is located at a height of about 1,267 m above sea level in the Panchkula district. The place is also known as Bhoj Jabial and is nestled in the lower Shivaliks. The lush greenery and the dense forests will rejuvenate the visitors soul.The place is known for its Himalayan views, wide variety of flora, beautiful rivers, streams, hot springs, waterfalls, and lakes. The thick evergreen forest here keeps the hill station cool all round the year.
The hill station is a perfect tourist destination for thrilling treks, rock climbing and many other adventure sports through its thick forest. Boating and cycling facilities are also available. The hills here are blessed with rare varieties of flora and fauna and bird watching. The wide range of bird species of the hills includes Kalij Pheasant, Peacock, Red jungle fowl, Blue Peafowl, Black francolin, Himalayan bulbul, Quails and Oriental turtle dove. The other inhabitants of the forests are Jackals, Langur, Hare, Hyenas, Nilgai, Sambar, Barking deer and Leopards.
There are many picnic spots in the hill station worth visiting. The main tourist attractions here are Tikkar Taal Lake, Gurudwara Nada Sahib and Mansa Devi Temple. Tikkar Raal is located about 10 kms from Morni. These two lakes namely, Bada tikkar and Chota tikkar are considered sacred by the people here. There is also a 12th century Trimurti temple on the banks of the lakes. On the banks of the lakes there is an adventure theme park with river crossings, Tarzwan swings and tree houses.
There are many government dormitories available for tourists at Tikkar Taal. Another tourist attraction here is the herbal park under the Forest Department, Haryana. Here, you can find more than 100 varieties of medicinal plants and herbs.
This is an all time tourist destination but the best season time is from October to March. The nearest airport is at Badogra located at about 55 kms from the hill station. There are holiday stays available in the village which will help to understand the rustic life of the villagers there.
There are many holiday homes in Haryana such as resorts, cottages and homestays which help travellers to enjoy the natural view of all rich and healthy pollution free natural environments of the State.