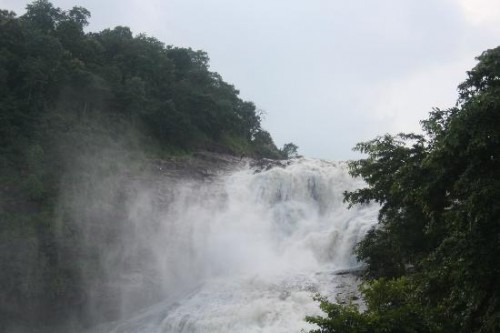 Adilabad is a town of Telangana state. It is the northernmost district of Telangana and connects the region with Central and North India. The town is located at a distance of 290 km from capital city of Hyderabad. The place offers tourists a holistic experience with its historical temples, monuments and breathtaking waterfalls. There are a number of tourist attractions in this place.
The highest waterfall in Telangana, Kuntala Waterfalls is situated close to the Sahyadri mountain ranges. Pochera waterfall is situated in thick forest where river Godavari descends from a height of 20 m. Basar Saraswathi Temple, situated on the banks of Godavari River, is a prominent temple in Adilabad and is one among the two temples in India dedicated to the Goddess Saraswati, the Hindu goddess of knowledge, music, arts and sciences. Kawal Wildlife Sanctuary is situated amidst dense forests, a perfect setting for wild animals and plants. Pranahita Wildlife Sanctuary is a popular tourist attraction in Adilabad district.
The formation of Telangana has certainly improved the prospects of Adilabad emerging as a prime tourist destination. The tourists coming to this place for visiting various spots of tourist interest during this Christmas vacation has increased. The place got great exposure to the world by the release of the movie Rudrama Devi with the scenes of Kuntala waterfall.
The place has now turned out to an excellent place for both leisure and adventure tourism, within the ambit of eco-tourism and village tourism. You can also tour to the interior tribal villages like Jodeghat during the Adivasi festival season.
Adilabad is the place mainly famous for eco-based adventure tourism. This northern district is an excellent place for both leisure and adventure tourism