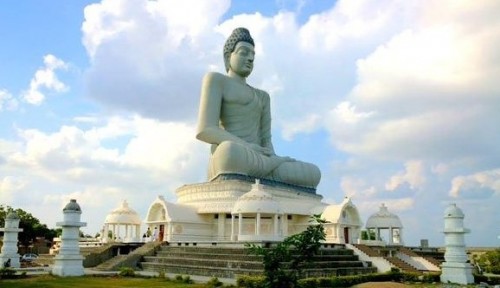 Amaravati, the People's capital of Andhra Pradesh, is envisioned to be a city of world-class standards with a vision of increasing Andhra Pradesh's prominence in the world. The Capital Region Development Authority (CRDA) is leaving no stone unturned to provide cutting-edge infrastructure, comfortable livelihood and immense prosperity for the People of Amaravati. The Land Pooling scheme adopted by Amaravati is the largest and the most successful of its kind in India, and is a manifestation of the people's desire for a world-class capital. The A bricks initiative is, but a natural step in the direction of People participation in building a true people's Capital Amaravati.
'Amaravati e-brick' programme introduced by the state government is a novel thought and it has been receiving thunderous response from the people of the state.
People have started contributing Rs 10 per brick on their name. The payment will be done through online so there will be no chance of mismanagement of funds. An electronic database of the contributors is maintained.
Over 1.4 lakh individuals purchased e-brick on Nov. 10. The Amaravati Campaign has made it to the Guinness World Records, claim local leaders of the Telugu Desam Party.
Expanding the horizons of Chief Minister Chandrbabu Naidu's "My Brick My Amaravati' campaign to global arena, Vijayawada MP Kesineni Nani suggested that a world record be attempted through this novel campaign to which the party chief agreed.
The attempt was targeted at garnering online donations through maximum number of individuals for a cause within 24 hours.
Records state that on Tuesday (November 10) about 1,43,740 individuals purchased the e-brick from across Andhra Pradesh.
This Campaign has broken the earlier record of 1,05,800 online buying by individuals in 24 hours for a cause by a Chinese NGO.
"It was not easy to mobilise such large-scale online buying. We enrolled 500 volunteers to help the donors make online purchase of the e-bricks. There was this constant fear of websites crashing due to excess traffic, the payment gateway may stop functioning. But finally, we made it and informed the Chief Minister that we have a splendid Diwali gift for him," said Mr. Pattabhiram.
He said representatives of the Guinness Book of World Record would come in the next 10 days to present the certificate.
Preceding the feat, the TDP leaders ran a 10-day campaign requesting people across the State to donate for Amaravati by buying the e-bricks. There was a huge response and people from all corners of the State contributed in making it a grand success. We are way ahead of the last record held by the Chinese NGO in this particular category," said Mr. Pattabhiram.