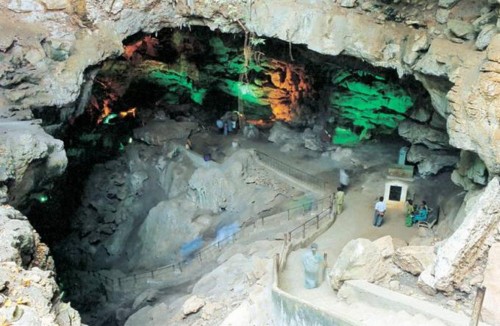 Borra Caves are located about 90 kms to the north of Visakhapatnam district of Andhra Pradesh. These caves also known as Borra Guhalu is situated in the Anantagiri Hill Ranges of Eastern Ghats. The naturally formed cave was discovered by the British geologist, William King in 1807. It is believed that this cave was formed about 150 million years ago. This is the highest cave in India.
The unending waterflow over millions of years resulted in the formation of the caves. The total length of the caves is about 200 meters. The Dandakaranya – Bolangir – Kibur train track passes over the caves. The hill slopes are inhabited by local treibals Jatapu, Porja, Kondadora, Nookadora, etc. It has been found that there was human habitation inside the caves. Stone tools of middle Paleolithic Age have been found out from here.
The humic acid in the water inside the cave reacts with the calcium carbonate in the limestone and dissolves the minerals and thereby breaking the rock gradually. There you can see formations resembling human brain inside the cave formed as the water drains from the roof containing calcium bicarbonate and other minerals from mounds on the ground called 'Stalagmites' and spear like structure hanging from the roof called 'Stalactites', which can be said as the gift of nature.
There is a natural Siva Linga deep inside the cave. Thousands of tribals visit the cave during Sivaratri festival every year.
About 4 kms away from Borra Caves is Katiki Waterfalls. The Katiki Waterfalls originate from the Gostani River. To reach there, you have to travel by rugged jeep inorder to cover the narrow muddy road passing through Jungle and by the side of Gosthani river. The Jeep travel will take you upto the railway track nearly 6 kms from Gatevalsa Point and from here you have to trek half km and climb up after crossing the railway track. The last 15 minutes of the trek upto the base of the waterfall is stiff climbing. There are steps upto the waterfall for safe climbing. On your way upto the waterfall, there are shops selling Bamboo Chicken and also locally collected honey.
The other nearby attractions of the cave include the Araku Valley, Tyda Park, Ananthagiri, Gosthani River, Tribal Museum, Coffee Plantations, Katiki Waterfalls, Dumbriguda Waterfalls, Bheemili Beach and Chaparai Waterfalls.
Borra Caves are well connected by rail, road and air services. The nearest international airport is Visakhapatnam at about 76 kms. On your journey to Araku valley in the Eastern Ghats by train you can enjoy watching the scenic landscapes with greenery, peaks and valleys. To reach the Borra Guhalu Railway station the train has to pass through 42 tunnels.
For entering the caves, you have to pay an entry fee of Rs 40/-. For children, it is Rs 30/-. Extra charges are there for Video and digital cameras. There are small restaurants near the cave for the travelers.