Posted on 30 Jun 2016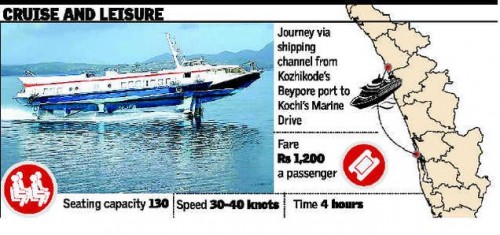 Kerala will soon have country's first high-speed hydrofoil ferry service connecting Kochi and Kozhikode.
Hyspeed boat will connect Marine Drive in Kochi with Beypore port in Kozhikode. Later in the second phase, a service from Vizhinjam port in Trivandrum to Kochi will start. The maiden service will launch during the Onam season.
The high-speed boat service will cut down travel time between Kochi and Kozhikode to just three hours, with the boat travelling at around 35 knots per hour(60 km per hour). At present, a bus ride from Kochi to Kozhikode takes around 6 hours at least. The service will be conducted daily but only during the daytime.
The hydrofoil boats are meant both for cruise and leisure. There are two of them and have arrived in Kochi all the way from Athens in Greece. Each boat is said to cost around Rs 15 crore. The double-engine boats can accommodate up to 130-odd passengers. The bats are fully air-conditioned and is equipped with pantries along with many entertainment facilities on board.
The fare will be around Rs.1,200 per head. The government will provide a subsidy of Rs.220/- per ticket on the Vizhinjam-Kochi route and Rs.150/- per ticket on the Kochi-Beypore route.
When the project is realized, entire trip from the capital city to Kozhikode could hopefully be completed in around five hours.