Posted on 14 Mar 2016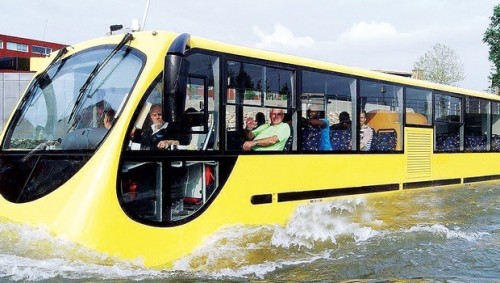 A recreational amphibious vehicle with ability to run both on water and road will be introduced at Hussainsagar in Hyderabad to promote tourism. The Telangana tourism and culture department proposes to introduce amphibious bus service in and around the Hussainsagar within six months' time.
The bus runs like a normal coach on the road but, when in water, uses a hull to float and is powered by jets and will be equipped with indispensable accessories like life-jackets. The state government has given green signal to the tourism department to introduce amphibious bus service at the earliest.
By this project,Telangana will become the first state in the country to procure the amphibious bus. When it becomes operational here, the service will give a fillip to tourism in Hyderabad," he added. The tourism department will invite expression of interest soon from reputed firms, including international companies, for procuring the amphibious bus. The vehicle has to be imported from abroad and the procedure needs five to six months for completion.
The service will be operated by private agencies in public-private partnership and the tourism department will act as a facilitator, he said. After taking tourists on land around the Hussainsagar, the bus will enter the lake and cruise on the water. After receiving EoI, the department will invite representatives of manufacturing firms to make a presentation on the features of their buses, according to officials. Based on its chassis, the amphibious bus uses a hull that allows it to float on water. It plies like a normal coach on the road, it is driven by twin water jets on the lake.