Posted on 05 Jan 2016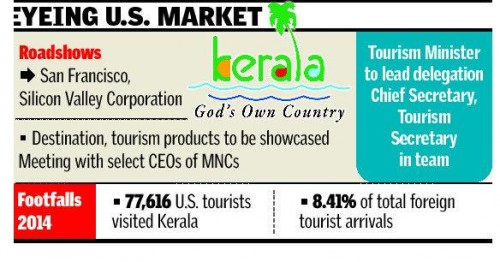 Kerala Tourism is looking towards United States, from where most tourists arrived in the country in 2014, to overcome the dip in arrivals from European market.
Besides luring American tourists through niche tourism products and wellness tourism, the tourism authorities are also planning on attracting investment to the State.
The State Ministry of Tourism will be sending delegates to the U.S. from January 7 to 15.
Roadshows at San Francisco and Silicon Valley Corporation and participation in the New York Times Travel Fair are the main engagements.
On January 14, the destination and tourism products will be showcased and the investment opportunities in the State will be presented to Chief Executive Officers (CEOs) of select multi-national companies at Silicon Valley Corporation.
This is part of a twin strategy of wooing CEOs and through them their employees and attracting investment in the tourism sector and other areas in the State.
Kerala has roped in the Confederation of Indian Industry and the United States Business and Industrial Council for the meeting of the heads of the corporates in the U.S. Tourist arrivals from the United States to the country were 11,18,983 in 2014 and the share of 14.57 per cent was the highest among the 10 top source countries of foreign tourist arrivals.
In 2014, the State attracted 77,616 U.S. holidayers behind those from the United Kingdom, France and Germany and this was 8.41 per cent of the total foreign tourist arrivals.