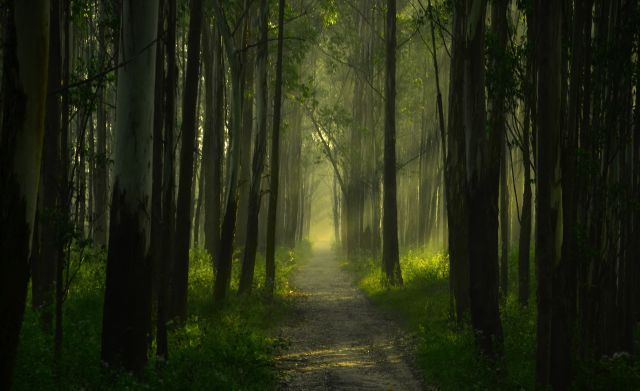 Wayanad, derived its name from 'Vayal Nadu' meaning land of paddy fields,  is one of the north eastern districts in God's own country, Kerala. Blended with rich culture, diverse traditional rituals and knowledge passed over generations, mesmerising ambiance of nature and with the glazing greenery of its unique cultivation of perennial crops and spices, this hill station has conquered the minds of many and still continues to. Wayanad forest will be the most inevitable part for any visitor, the dense forest covers majority of Wayanad and treasures rare species of flora, fauna and various endangered species.
Various engravings on Edakkal caves and Ambukuthimala was found to be that of new stone age, marking the presence of the age old civilization. The majority of inhabitant of this green paradise are tribes, consisting mainly of Paniyars, Kurumas, Adiyars, Kurichiyas, Ooralis, Kadans and Kattunaikans. They are by generations forest dwellers, also proficient in organised farming, herbal medicine, unique ornamentation and handicrafts.
Tribal art forms of Wayanad
Tribal art forms showcases various emotions & seasons of mother nature, beliefs and stories of deities, about the simple yet sophisticated lives of theirs and much more. The various tribal art forms of Wayanad includes 'Vattakalli' by Kurumar, 'Gadhika' by Adiyas, 'Kolkalli' by Kurumars, 'Nellukuthupattu' by Kurichiyas, 'Kambara Nirthyam' by Adyas and so. These tribal art forms are distinguished by the swift movement of feet, rhythmic clapping of hands, graceful movement of body and its unique costumes ranging from nudity to traditional wear with ornaments.
Vattakali art forms is mainly related to the worship of Lord Ganapathy. It is usually conducted in connection with the marriage ceremonies of  Kurumar community. Performed by both men & women, it is a vigorous dance form where the foot and hands are moved rhythmically over the music.
Gadhika art form is mainly performed by Adiya communities. Two kinds of Gadhikas exists namely Naattu Gadhika and Pooja Gadhika, the former being performed publicly and the later for ritualistic purpose like of curing illness and for safe child delivery.
Kolkali is an art form performed by Kurumar community. In this, the performers move in a circle striking small  sticks following the rhythm and the music reaches its highest pitch with the climax.

Nellukuthupattu art form is performed by Kurichyas tribe and is mainly associated with festive seasons. Adiya tribes perform Kambara Nirthyam showing the respect for the agriculture practices. They dance in the paddy fields and plant new saplings. Theyyam is a popular art form of whole of Malabar region of Kerala. Drum, Cymbal, Kuzhal, Perumbara, Conch, Cherututi, Utuku and Chermangalam are the various musical instruments used for Theyyattam. Inward, outward and slow  circular movements distinguishes this tribal art.
Tourist Attractions
Wayanad with handful of treasures intrigues the heart and soul of varied tourists, hence the place fits itself for heritage tourism, wildlife tourism, recreational tourism, adventure tourism, pilgrim tourism and so.
The Edakkal cave, Pazhassi Raja tomb, Wayanad heritage museum, Chain tree, Muniyara, Uravu forms the major heritage sites of Wayanad. Kuruva Island, Karapuzha dam, Pookottu lake, Lakkidi Pass, Kanthanpara waterfalls, Sentinel Rock waterfalls,  Soochipara waterfalls & Banasura sagar dam are various recreational spots of Wayanad. Chembara peaks, Meenmutty  waterfalls and Pakshipathalam  attracts adventure tourists with exclusive trekking experience.
Muthanga and Tholpetty are the famous Wildlife Sanctuaries of Wayanad and the most targeted destination for the tourists. Apart from these, presence of various traditional temples enhance the glory & charisma of Wayanad.
The beliefs and culture are passed over generations without losing its purity and intensity, which is well evident from the numerous sacred groves and temples of Wayanad. The Wayand Temple art is famous for its exclusive Kerala architecture with eprfection in proportion and carvings.
The various well known Wayanad temples include Thirunelli temple, Valliyoorkavu temple, Sita Lava-Kusha temple, Thrissilery Siva temple, Pallikunnu church and Sulthan Bathery Jain temple.
Wayanad Tourism offers a mesmerising experience for all her visitors, where the nature is in its full blossom with the vast greenary of paddy fields, un explored forests inhabiting rich & rare species of birds and animals, flora and fauna and the exquisite plantations of Coffee, Tea, Vanilla, Cardamom, Pepper, Ginger & Rubber. If you are looking for a perfect holiday amidst nature with all its alluring beauty and calmness with a tint of adventure then Wayanad tourism will be the best option ever. Apart from various homestays in Wayanad, there are forest resorts, forest camps, dormitories available at your leisure and comfort.  There are Resorts conducting tribal art forms for the tourists at their requests. The best period to visit the place for sightseeing is between October and February, but if monsoon is your preference, mark you calendar between July and September.
Being the renowned land for spice plantations, all kinds of fresh spices are available at reasonable rates and also unique handicraft items made of cocunut shells, ivory and other materials can be added to your souvenirs.
Also, an item  'must on the list' is the dish 'Kappa and Meen Curry', which plays magic on your buds. With all these treasures beholded for centuries, she generously unfolds it with all its glaze and mystery to her visitors, so, go explore Wayanad!
Reaching Wayanad
The nearest airport to Wayanad is Calicut International airport nearly 95kms from Kalpetta. The nearest Railway station is at Calicut, 75kms from Kalpetta and the National Highway 212 (Kozhikode – Mysore) passes through Wayanad, also frequently buses are available to Mysore, Bangalore and Ooty.
The nearest airport to Wayanad is Calicut International airport nearly 95kms from Kalpetta, The nearest Railway station is at Calicut, 75kms from Kalpetta and the National Highway 212 (Kozhikode – Mysore) passes through Wayanad, also frequently buses are available to Mysore, Bangalore and Ooty.