Nestled on the India's western frontier, the city of Jaisalmer is truly enthralling for the both the history and adventure fans. Whether you go on the famous camel ride on its sand dunes taking you to Thar or roam around the royal monuments taking you back in time, the experience is just matchless! Both the yellow sand and golden-like tint of the city as well as the flanking area deliver the tag of 'Golden City'.

[caption id="attachment_692" align="alignnone" width="259"]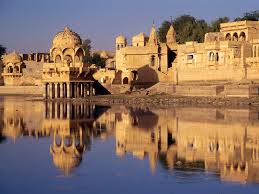 Jaisalmer[/caption]

However, Jaisalmer is named after the Rajput king Raja Jaisal who founded the city in 1156. The city's position between Central Asia and India earned it huge wealth from the camel and train routes (part of Silk Route), which was invested in building gallant mansions and homes of sandstone and wood.

In the 17th century, the amiable relationship with Delhi triggered another golden age for the city during which more palaces and monuments were built. Even today, the city retains its medieval charm felt in stores such as Arabian Nights, which is evident from its sandstone houses, colorful narrow streets, impressive forts, and opulent souks.
Main Attractions to Explore
[caption id="attachment_693" align="alignnone" width="300"]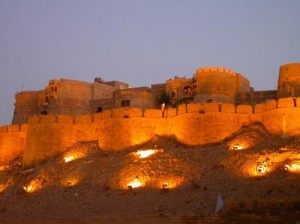 Jaisalmer fort[/caption]

Soaring like a sunbeam from the golden dunes, the Sonar Quila (Jaisalmer Fort) is the second oldest stronghold in Rajasthan. While the colorful sunshades and golden desert hues accentuate the exterior, the past and present classical artwork decorates the interiors. Numerous lookouts ensure a great view of the both the city and desert.

Inducing a vision of chivalry, several havelis of wealthy merchants seem to a bonus for the history-seeking eyes. Featuring intricately- carved facades and beautiful fusion of Rajput architecture and Islamic art, a few worth visiting havelis are Salim Singh ki Haveli with grandeur of the surviving structure and Jharokhas, Patwon ki Haveli as the largest of its kind, and Bada Bagh with its blue cupola roof, balcony on top storey, and carved brackets in the shape of peacocks.

Gadissar Lake is truly an oasis amidst the dunes. This artificial water tank is flanked by small temples and shrines and is ideal for viewing the exquisite archway, Tilon ki Pol. For an amazing camel ride, the area of Sam Sand Dunes is the place to be!
Budget Accommodations
Well, it is holiday homes Jaisalmer! I would suggest staying in holiday homes near Jaisalmer, especially if you love to be amidst green oasis or sandy views. Jhalodi is one such budgeted option to consider. If you wish to be in the city, then Uju's is the wallet-friendly option in the category of homestays in Jaisalmer.
Best Time to Visit
October to March