Bluish and bustling, mysterious and cuddling – this is the city of Jodhpur shining naturally due to bright sunlight as well as manually because of the royal attractions. It is also the Blue City, the name that comes from the blue walls and roofs of houses surrounding the famous Mehrangarh fort.

[caption id="attachment_675" align="alignnone" width="300"]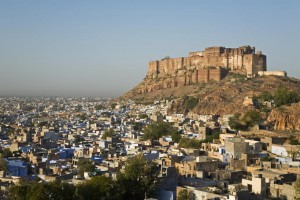 Jodhpur[/caption]
Overview
Previously known as Marwar, Jodhpur was founded by Rao Jodha in 1459, who was a Rajput Chief of the Rathore race. It was one of the important cities on the strategic road linking Gujarat to Delhi, the famous trade route of merchants, which rewarded enormous profit to the city.

During the rule of Maharaja Umed Singh, the town developed into an exceptional modern city, which managed to thrive even under the British Raj. Today, it is an independent city with diverse forts and palaces, temples, traditions, spices, and handicrafts, all contributing to make this historic city worthy of your time and money.

Monumental Attractions Unfolding as you Move

Fully untouched by time leaving the royal palaces turned into heritage hotels or holiday homes in Jodhpur, the best of the city can be explored in just two days. Jodhpur opens up before you as a packet of small, frequent surprises.

[caption id="attachment_676" align="alignnone" width="259"]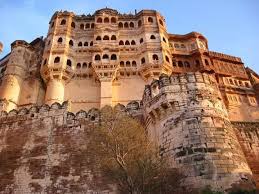 Mehrangarh Fort[/caption]

Mighty Mehrangarh, the brawny fort towering above the blue houses, is a brilliant spectacle and an architectural masterwork. The main attractions here are the latticed windows, carved panels, the Chamunda Mataji Temple, the Moti Mahal (Pearl Palace) with five hidden balconies, Sheesh Mahal (Mirror Palace), Phool Mahal (Flower Palace) with its gold embossed ceiling, Takhat Vilas, and museum with royal armory.

You just cannot leave without soothing your eyes at the Umaid Bhawan Palace fully decorated in marble and pink sandstone. Still the hub of the erstwhile royal family, the palace also houses a museum preserving diverse crystals, clocks, and weapons.

Lastly, do explore Mandore, the old capital of Marwar at 8 km. The main attractions here are the Hall of Heroes with 16 figures made from a single rock Ajitpol gate with mythological carvings, and a shrine of over 300 million gods and goddesses.
Budget Accommodation amidst the Royal Ambiance
You can make your royal trip most affordable by staying in one of the homestays in Jodhpur. One of the most recommended royal yet affordable holiday homes in Jodhpur is Riddhi Siddhi Bhawan located at 3 km from the airport, 1 km from the Umaid Bhawan Palace, and at 5 km from the mighty Mehrangarh.