After a weekend stay at Udaipur, my group of college friends and I found that much money was saved by staying in the Chandra Niwas homestay. Through a discussion with the host Samvit and his family, we came to know that they could book bus tickets and one of the budget homestays in Ajmer at a discounted rate. However, before we left, Samvit briefed us about the spiritual city of Muslims as well as Jains.
About Ajmer
[caption id="attachment_684" align="alignnone" width="300"]
Ajmer[/caption]

According to Samvit, Ajmer is not only the spiritual center in Rajasthan but also one of the most charming cities at the foot of Aravallis. With a series of forts along the hilly range, the city reflects its historically royal esteem. Therefore, it is rightly tagged as the 'Land of Maharajas'. The city was founded by Ajayapal Chauhan, a Rajput chieftain who built the first hill fort, the Tara Garh, in the country.
Enchanting Tourist Attractions
[caption id="attachment_685" align="alignnone" width="300"]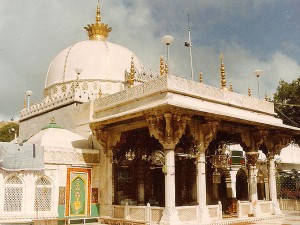 Dargah Sharif Ajmer[/caption]

Talk about Ajmer and the Sharif Dargah is always at the top in the sightseeing plan. Nestled at the end of a stark hill, the splendid tomb of the saint Khawaja Moinuddin Chisti is a major pilgrimage center that is visited by people of all faiths.

Regarded as an epitome of Indo-Islamic structural design, Adhai-din-ka-Jhopra accessible in a few minutes from the Dargah is just a soothing sight for the historic fans. From here, a climb of 1.5 hours takes one to the ruins of Taragarh looming high atop a hill. Once a site of all military activities during the Mughal era, today it is a point of enjoying the view of the entire city.

A few more attractions to visit are the beautiful Ana Sagar Lake for boating and enjoying the views of flanking marble monuments, a Jain temple before reaching the lake, and the museum that marks the Akbar's royal residence.
Places to Fulfill Your Taste Buds
For reasonably priced delicious thalis, nothing can compare with Hotel Bhola at the Dargah Bazar. Do taste the traditional Bati Chokha dish here! For savoring some western choices, Honeydew restaurant near station is ideal. If you love Indian snacks such as samosa and kadi-bhujje (Ajmer's specialty), head towards the Mahadev Chaat at Naya Bazaar.
Best Accommodations - Holiday Homes Ajmer!
For us, homestays in Ajmer are the best budget accommodations for big group travelers or families. There are more holiday homes near Ajmer apart from those in the city for enjoying the mystic views of the srrrounding area of Aravallis as well as the most tranquil ambiance. We stayed in 'The Villa' near the famous Mayo college.